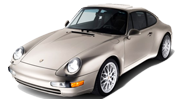 Porsche 993 Tuning, Remapping and Exhaust Systems
We specialise in supplying performance parts and upgrades for Porsche 993 models.
We deliver first-class tuning, remapping and performance upgrades including performance exhausts, tyres and styling products.
Don't trust your Porsche 993 tuning to anyone, we have a 5* rating from our customers and specialised in high-value performance cars such as Porsche.
Display 15 Products per page
Porsche 911 Luxury Custom Indoor Car Cover

The Porsche 911 Luxury Custom Tailored Indoor Car Cover is the perfect accessory for any Porsche owner who wants to protect their car from dust, dirt, and other indoor contaminants. This high-quality car cover is specifically designed to fit your Porsche 911 perfectly, ensuring a snug and secure fit that will keep your car clean and pristine.

Crafted from premium-grade materials, the Luxury Custom Tailored Indoor Car Cover is built to last, even under the most demanding indoor conditions. The precision engineering and expert craftsmanship ensure that every aspect of the car cover is optimized for maximum protection and durability.