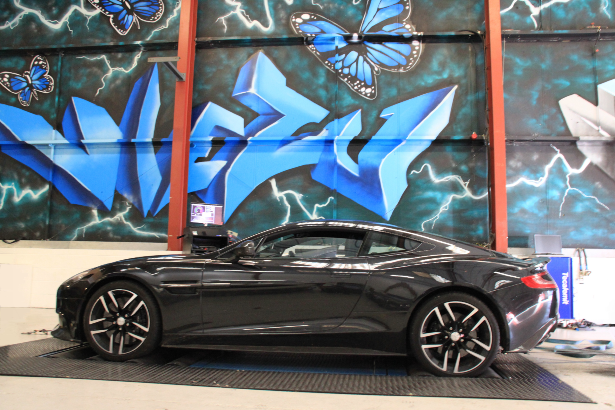 The Paramount Aston Martin tuning and ECU remapping is custom written, with each Vanquish performance tune and software being written live to your vehicle. As such our tuning can take account of your Vanquish's modifications, i.e. Vanquish performance exhaust systems, or sports catalytic convertors as well as your driving requirements and fuel grade. Are you looking for fast road power, or something a little more track day ready?
If you can come and see us at our offices and workshop, you can see your Aston Martin being tuned, and the technical guys will be right on hand to help with any questions. And, explain the service and tuning being carried out. We can also show you our lovely range of Aston Martin performance exhaust systems
Aston Martin Tuning
Paramount's Aston Martin tuning will deliver power increases of around 30-34bhp. Full custom chip tuning and live rolling road testing and tuning for your Aston Martin Vanquish is available at many locations. Worldwide mail order service is available. With tax-free sales available to many locations. Please let teh team know if you don't see what you are looking for. Or need any help with your purchase or installation.
Performance air filters and other accessories can be added too to give you a more bespoke and tailored tuning package.  Paramount have a full workshop team on hand and a 12,000ft workshop. With ramps, tyres bays, and a 4×4 rolling road. The site is and the team is ready for all aspects of Aston Martin tuning, service and maintenance.
Paramount Performance is the home for all you Aston Martin Vanquish tuning and performance parts