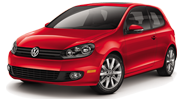 Below are our Volkswagen Golf Tuning or Volkswagen Golf performance products. Call us to discuss your individual requirements, we can arrange worldwide shipping of all of our Volkswagen Performance parts.
Display 15 Products per page
Forge VW Golf Mk4 130 PD Intercooler Kit – Alloy Upgraded

This Forge VW Golf Mk4 intercooler kit is the perfect solution whether you are losing power on a modified VW Golf Mk4 through higher intake temperatures. Whilst the original VW Golf Mk4 Intercooler is good, once you modify your VW Golf Mk4 you really need to keep the air-intake temperature down to get the best out of your VW Golf Mk4, your tuning and modifications.

This fantastic Forge VW Golf Mk4 Intercooler is manufactured to the very highest standards, it's designed to give greater thermal reductions on VW Golf Mk4's running a tuned and remapped software or those running a little more extreme upgrades like larger VW Golf Mk4 turbochargers.