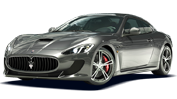 Maserati GranTurismo Tuning, Remapping and Exhaust Systems
We specialise in supplying performance parts and upgrades for Maserati GranTurismo models.
We deliver first-class tuning, remapping and performance upgrades including performance exhausts, tyres and styling products.
Don't trust your Maserati GranTurismo tuning to anyone, we have a 5* rating from our customers and specialised in high-value performance cars such as Maserati.
Display 15 Products per page
Maserati GrandTurismo S Exhaust Systems

Maserati GranTurismo S Performance Exhaust System

Manufactured from high-grade stainless steel this Maserati GranTurismo exhaust system not only looks like a work of art, it sounds amazing too. Handmade to the highest standards and quality possible, made from 308-grade stainless steel and with an anti-corrosion warrant that guarantees it will be the last Maserati GranTurismo exhaust system you buy for your pride and joy.

Click here to hear just how amazing our Maserati exhaust sounds:

The systems are made to order and can normally be dispatched in around 10-14 days, almost all Maserati GranTurismo  models are covered by our extensive range, if you don't see what you are looking for or have a specific requirement with sound/finish please email us