Jaguar F-Type Carbon Fibre Dashboard – Real high gloss carbon fibre F-Type dashboard
The Jaguar F -Type is a stunning car on every level, but sadly many of the early models and specification, did not have the F-Type Carbon Fibre Dashboard. And came with a rather more plastic offering.
If you don't have the upgraded dashboard, why not Give your Jaguar F Type the classic timeless look with a real carbon fibre dashboard. Stunning high gloss finish carbon fibre, with real weave carbon fibre.
This 3-piece F-Type carbon fibre dashboard is made by Paramount. Its exclusive to Paramount, fitting is available at our workshop in the UK, or we can arrange door to door shipping worldwide. (tax-free subject to location)
There can be up to a 3-week delivery time for this item. The Paramount F-Type Carbon Fibre Dashboard is sold on an exchange basis, if ordering mail order, there is a £500 surcharge until your original dashboard parts are returned to us.
Please ask for details if you need any help – Other colours and finishes are available, i.e. red carbon fibre, piano black high gloss, etc. etc. Call Paramount performance for all your Jaguar needs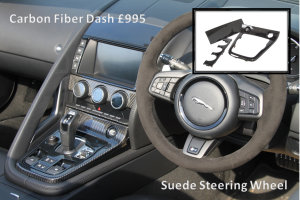 paramount can also offer many other parts made in carbon fibre. Many external styling upgrades are available.  Including spoilers, side skirts, bonnet and side vents, and front and rear diffusers. As will all Paramount parts, intonation mail order is available, tax free to many locations. And a full UK fitting service is available too, while you wait for many parts and accessories.