These Jaguar F-Type Catalytic Converters V8

Sports 200

CPSI

Cats

These Jaguar F-Type Catalytic Converters, V8 Cabriolet and Coupe sports 200 cell catalytic converters.  This custom-made pair of sports catalytic converters or cats for your Jaguar F-Type V8 releases the raw power of the Jaguar AJ-V8 engine. Crafted from stainless steel and incorporating a 200 cell design that allows for greatly improved flow of exhaust gasses.

These 200 cell sports cats for the Jaguar F-Type are a fantastic way to gain extra horsepower above the already impressive 500+ bhp that the standard car has.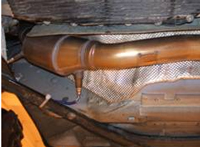 These Jaguar F-Type Catalytic Converters / Racing Catalytic Converters are approved and tested to 700bhp. Using German TUV cat matrixes and internals. They are not the cheap small Catalytic Converters sold by many suppliers, which burn out and can fail in just 2-3 years. Or worse, melt blocking the exhaust system, potentially causing catastrophic engine failure.
If you are going to change your Catalytic Converters. Be sure to change them with a part of at least the quality of the OEM original, do it once and do it right.
Paramount offer Jaguar F-Type tuning and ecu remapping. With performance packages and upgrades for the 5.0V8 jaguar engine offering up to 650bhp.  Worldwide shipping is available. With tax-free sales available to many locations.  As well as a full fitting and dyno testing facility at our UK workshop. If you are on a quest for more power and more Performance. Paramount Performance will be happy to help. We have been tuning Jaguar cars for over 30 years.