Jaguar XK XKR Powerflex handing kit. Uprated suspension bush kit
Jaguar XK XKR Powerflex handing kit. Uprated suspension bush kit. This is the full set of 24 Jaguar XK / XKR / XKRS Powerflex suspension bushes.
We all love a Jaguar XKR, a super fast, luxurious GT car, be it a coupe or convertible, the XKR is a stunning car. But the handling can be a bit on the soft side, fine in a straight line, but when cornering and handling at speed, the XK does have a tendency to have a bit of a wobble, and start to feel a little "uncertain" which can feel a little unnerving to the driver.
It seems an effort to deliver super luxury touring, Jaguar may have gone just a touch too soft on the suspension for many enthusiastic drivers. The answer is the Jaguar XK/ XKR Powerflex handing kit. This uprated suspension bush kit very significantly reduces the "wobble" in the suspension, but crucially washout making the suspension hard and bumpy. In our opinion, it really is the perfect balance the factor suspension was missing.
This set of Powerflex suspension bushes really makes a difference when driving and cornering. They will give more accurate feedback and engagement between the road, your Jaguar XKR, and you the driver.
For those die hard track day lovers, looking for more of a motorsport feeling, with tougher and firmer feeling all around, the Jaguar XKR Powerflex handing kit also comes in a "black motorsport" version. Though many daily drivers may find this a little on the firm side
The Powerflex Jaguar XKR suspension bushes are available mail order with international shipping.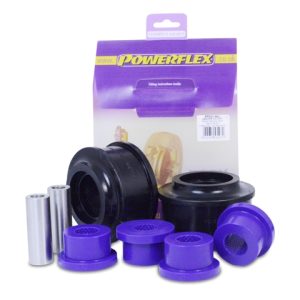 International mail order is available and sales outside of the UK are tax free too. Alternatively, if you are in the Uk Paramount Performance offer a full fitting service.  Its around 10 hours to fit the full set of Powerflex bushes. Paramount will also complete 4 wheel alignment set as part of the fitting service
Please contact the service team if you would like a quote for fitting [email protected]