Land Rover Defender 300tdi Turbo Upgrade Hybrid Turbo
A new Land Rover Defender 300tdi upgrade turbo hybrid. Land Rover Defender 300 tdi turbo upgrade. A direct replacement variable vane Defender 300tdi turbo charger. Also suitable for Range Rover & Discovery 300 Tdi models.
This is a direct replacement turbo charger for the original Garrett turbo for a 300 tdi engine, it requires no modification to fit.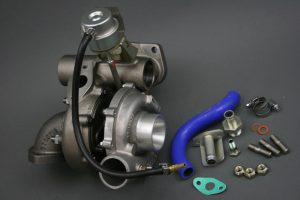 Land Rover Defender 300 tdi hybrid turbo upgrade kit is a direct bolt on replacement. A full fitting service is also available. As this Land Rover Defender 300 tdi hybrid turbo upgrade this turbo will use and fit the standard exhaust manifolds.
Land Rover Defender 300 tdi hybrid turbo upgrade will acts like a small turbo initially giving instant power by spooling quickly, the geometry then increase flow at higher revs, giving an improved power and pull across the full rev-range.
Power significantly improved across the 300tdi rev range especially in the lower and mid-range rpm.
We would strongly suggest an uprated Land Rover 300 tdi intercooler is fitted, we can of course supply this for you. Do not fit this 300tdi turbo unit with a high level or nonstandard air intake.
Worldwide shipping is available. With door to door delivery to most locations. International sales are tax free too.