Land Rover Defender Powerflex handling pack  2002 on.
Land Rover Defender Powerflex handling pack  part number PF32K-1003. Significantly improve the feel of your Land Rover Defender on the road with this Land Rover Defender Powerflex handling pack. The pack includes some of the main key defender suspension bushes made from toughened  high performance rubber – removes much of the uncertainty and wobbliness of the Land Rover Defender – improving road holding performance.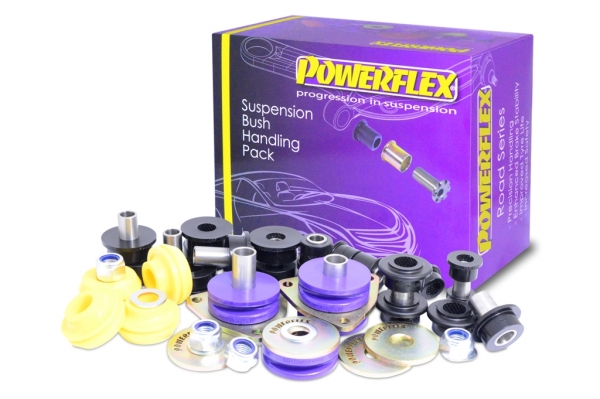 Other Land Rover and other Defender models are also covered and can be supplied
Powerflex bush kit
This Defender Powerflex handling pack  includes the following parts:
Powerflex  PFF32-301 Defender Panhard Rod Bush
Powerflex  PFF32-108 Defender Front Radius Arm Front Bush
Power flex  PFF32-109 Defender Front Radius Arm Rear Bush
Powerflex  PFR32-110 Defender A Frame to Chassis Bush
Power flex  PFR32-111 Defender Rear Radius Arm Front Bush
Powerflex  PFR32-112 Defender Rear Radius Arm Rear Bush
This Land Rover Defender Powerflex handling contains a selection of parts from a complete vehicle listing, more and additional Defender bushes are available for those looking for further improvements in handling
Whilst this package is sold with mail order service, Paramount also offer a full installation service if you are looking for it for as well as wheel alignment and set up. Please mail us for an installation quote if required  [email protected] 
Worldwide sales and mail order available, with fast international shipping. Sales outside of teh UK are also UK tax free.