When it comes to tuning cars, having the right tools is crucial. Powergate is a revolutionary tuning experience designed to help you grow your business and empower your customers. The unique features and user-centric design of this tool make it unmatched in its field. Here are 4 reasons why it's the right tool for your customers.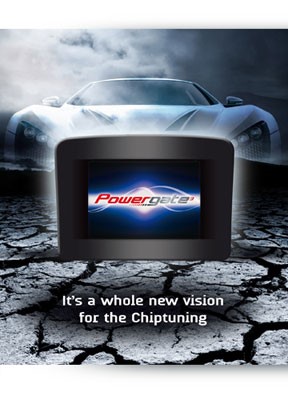 1: No costly physical upgrades are required.
This is what Powergate offers your customers, it allows them to write customised maps to their ECUs without physically altering their cars, simply by connecting to their OBDII port. As this is a software-only upgrade, it is fully reversible, allowing the car to be returned to factory specifications in just 15 minutes.
2: Versatile tuning options
Powergate's beauty lies in its versatility. Multiple tuning software files can be stored for the same car, so vehicle owners can customize their driving experience. Are you looking for maximum exhaust burbles and pops for your next car show? Would you prefer a quieter ride for the school run? Powergate offers endless possibilities. For service times or before ECU updates, this tool also enables users to revert to the stock factory software.
3: User-friendly controls and design
The Powergate system is designed with the end-user in mind. Even those who are new to car tuning can navigate and use the tool easily thanks to its intuitive interface. Our step-by-step training videos provide a comprehensive guide, ensuring that using powergate four you and your customers is easy, and you have all the information needed to make the most of the Powergate four the best experience.
4: Value for money
The value for money offered by Powergate 4 dealers is unmatched. It offers a range of features and benefits, as well as an affordable price point, making it a very attractive tool for your customers, and perfect for helping you realize the profit potential of home tuning tools.
Powergate 4 Tuners
A Powergate is more than a tuning tool; it's an investment in performance and driving enjoyment. Powergate's exceptional performance, versatility, user-friendly design, and value for money are just four of the reasons to choose it.
So, use Powergate 4 a way to offer your customers a wide variety of tunes without the need to go out to them or have them come to you every time they want to change the tune, allowing you to increase your profits, while offering a wider range of products to your customers.
You can give your customers the power to upgrade their car for a track day or to restore it to stock while they're having a service. Click here to learn more about Powergate!
https://paramount-performance.com/wp-content/uploads/2022/12/Alientech-Powergate-3.jpg
1095
1178
Simon White
https://paramount-performance.com/wp-content/uploads/2021/01/logo.png
Simon White
2023-10-12 11:29:36
2023-10-12 11:29:36
Powergate 4 reasons to buy this versatile tuning tool.