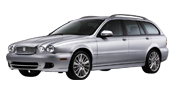 Jaguar X Type Tuning, Remapping and Exhaust Systems
We specialise in supplying performance parts and upgrades for Jaguar X Type models.
We deliver first-class tuning, remapping and performance upgrades including performance exhausts, tyres and styling products.
Don't trust your Jaguar X Type tuning to anyone, we have a 5* rating from our customers and specialised in high-value performance cars such as Jaguar.
Display 15 Products per page
Jaguar X – Type Lowered Sports Suspension Pack

Jaguar X Type Lowering Springs – 30 mm Jaguar X Type Lowering springs

Jaguar X Type Lowering springs are perfect for track day and every day road, these Jaguar X Type lowering and handling springs dramatically improves both a vehicles performance and appearance, without introducing a "bone shaking" ride quality.

Our Jaguar x Type lowering springs lower your Jaguar XType center of gravity reducing squat during acceleration and body roll when rendering,

Paramounts Jaguar XType lowering springs offer, Top-Performance Handling, lower center of gravity, and progressive spring design and function.

Paramount Performance for all your Jaguar XType lowering springs, tuning and performance exhaust systems.

Jaguar X Type Lowering springs – Please confirm year and model when ordering